From Patricia at
Subjective Soup
we received the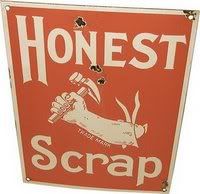 award.
I have to list 10 honest facts about myself.
1. I've battled with weight issues all my life. This is probably the most significant cause of my diabetes.
2. I used to drink heavily. This didn't help.
3. Through eating properly, I got off diabetic meds. But it was too little, too late.
4. I started to gain significant weight when I stopped exercising. I failed to see the correlation until much later.
5. I was told I would die at age 30.
6. The amputation of my toe was more devastating than the failure of my kidneys.
7. I was so afraid of doctors, I put myself at serious risk. I filled up with 12 gallons of fluid, at last measure. More to go.
8. While the root cause of my problems can be blamed on others, it really sits with me. There were opportunities to correct the past, they were ignored.
9. I should see a psychiatrist, but the fear of doctors.....
10. Years ago, I was put on valium. It increased my anxiety.
That's 10. I am supposed to nominate others, but I'll pass.